pink flowers with earflaps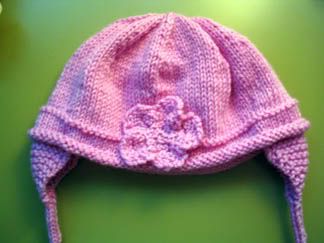 FO this: Maggie's cap with earflaps.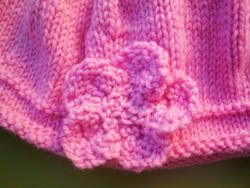 Maggie's cap detail: five-scallop garter-stitch flower.

Maggie's cap with earflaps:
Yarn -- Knit Picks merino style in "Petal"
Gauge -- 5.5 stitches
Size -- about 19.5" circumference
Pattern --
hat: CO 108 stitches and knit in the round about 1.25", purl a round for visual interest, then continue knitting for about 3" more before beginning the decreases in multiples of 9. (I think I should have knitted a few more rounds before decreasing. We'll see if it fits my niece.) Decrease every other row until 9 stitches remain. Knit 3 stitches together 3 times until 3 stitches remain. Pull yarn through these stitches tightly and weave ends.
earflaps: CO 16 stitches, work 1" in garter stitch, before decreasing one stitch on each end every other row. Decrease to 4 stitches, knit 2 rows, then begin I-cord to desired length.
flower: from Nicky Epstein's Knitted Embellishments.