lite knitting
Unfortunately, I haven't been very active on the knitting front lately. I don't know if it's a motivation thing or a priorities thing.
Anyway, I received a couple skeins of yarn and a knitting stitch pattern book from a dear friend of mine back home. The two times I've been home since I left she's been in New Mexico with her dad who is undergoing chemotherapy treatments. So, her boyfriend gave me the gift when a few of us met for dinner. (See the photo of us on my personal blog.)
Back to the yarn... it's a blend of acrylic, polyester, mohair and alpaca. I have itchy issues with mohair, so, I thought I would knit a scarf for my friend's birthday at the end of January. Hopefully, I'll finish it in time. Ack!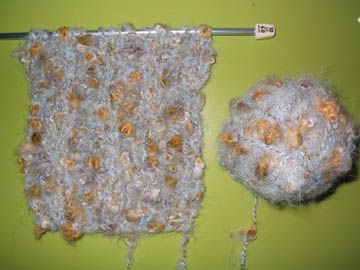 The yarn and the scarf in progress.
The pattern is a simple k2 p2 rib.