grumpy L.A. post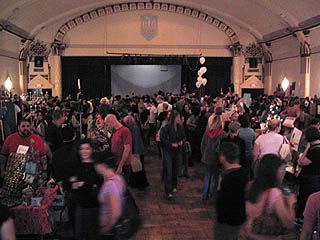 A scene from the Bazaar Bizarre in L.A.
The Bazaar Bizarre was packed to the point where it wasn't much fun looking at people's crafty things from over and around the heads of dozens of other people. Bummer. I wonder if the fire marshal showed up.
Also, yesterday while in L.A., I tried desperately to find a parking spot near The Knitter's Studio on West 3rd Street with no luck. I was able to find a spot in front of Knit Cafe on Melrose. Small place, doesn't seem like they'd have enough of a dyelot for a sweater.