flying with needles & the hourglass
For those worried about having your sticks confiscated at the security checkpoint at LAX, have no fear. (Check
this link
for documentation from the TSA.) A guy on my return flight commented on my needles and how he had been taken aside because the rivets in his jeans had set off the sensors.

I can understand why knitting needles and crochet hooks shouldn't be allowed on planes. They could, after all, be potential weapons. But then, so could a million other things.

Thank goodness I was able to bring my circulars aboard. Although a very slow knitter, I did make progress on the hourglass sweater. (See the link button on the sidebar for more info on the knit-a-long.)

After losing an eBay auction for 10 skeins of turquoise Cascade Sierra, I looked at my stash and found some yarn with the required gauge I have had since the '90s. I knew I'd eventually find a use for this stuff... although, I'm not crazy about the color. Against my better judgment, I might consider dyeing it after it's knitted. gasp!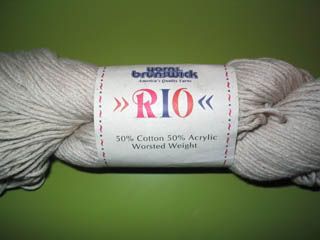 The yarn for the hourglass sweater.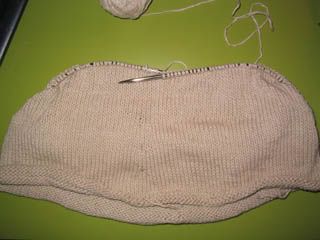 Progress to date on the hourglass sweater.