regrets, i've had a few...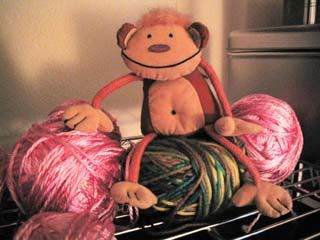 You ever rummage through the bargain bins at your LYS and buy stuff you don't need because it's such a good bargain? You spend forever trying to find a pattern that will work with the yarn so you can finally make something out of your foolish purchase but with no success.
Here's some of that yarn. Silk/cotton Noro variegated what-will-I-ever-make-with-this-yarn and silky viscose very-cool-pink-but-oh-so-slippery-if-this-tangles-up-again-I'll-kill-myself-yarn.