on with its head
Tell me if you've ever done this.
I finished Bobbi Bear's head last night and, instead of moving onto its arms, I started on another bear.
Tonight, I frogged the back of a super bulky sweater I had begun knitting back in 2001. Yes, three years ago. With the expensive and beautiful, black Burly Spun yarn, I thought I would knit a cardigan for my sister, or my mother, or gasp! myself, heaven forbid! I'm thinking all my Christmas presents this year should be knitted.
I broke down and bought a mailing box for Maggie's pinafore (and turtleneck and tights I bought to go with the pinafore). So, it's a month-and-a-half early for her birthday. What's so wrong with that?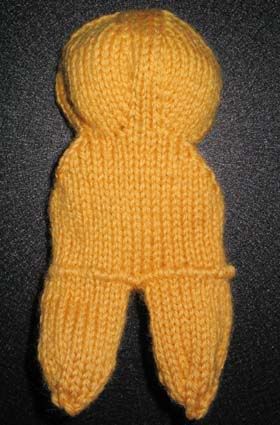 Bobbi has a head.