anticipation
A pinafore for little Maggie.
I'm visiting my family in Minnesota for Thanksgiving. My niece, Maggie, has her first birthday in December. I can't wait for her birthday to give her this adorable pinafore. I'm not sure I can wait till Thanksgiving, either!
The pattern is called "Anouk" and it is from
knitty
. I used
Lana Grossa
Bingo, Numero Uno and Merino Big.
Don't you think Maggie will look even cuter than usual in this?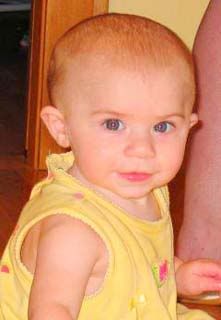 Maggie in yellow.