how fuzzy was he?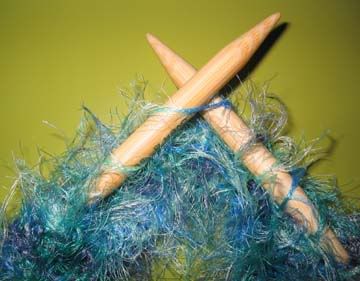 ggh Apart on US size 13 Clover circular needles.
Let me start by saying I've never really cared for novelty yarns.
Yet, when I saw the yarn shown in the photo above, it screamed "Buy me, you fool!" And, so, I became its fool. This was the most I've ever spent on a hank of yarn EVER.
I started out on US size 35 needles borrowed from Summers.
novelty yarn + US size 35 needles = a maddening experience
I cast on 33 stitches for a scarf/shawl and later, somehow, ended up with 37 stitches. Knitted for about a foot before I gave up and switched to much smaller needles and knitting in the round. I probably won't have enough yarn to make a decent-sized scarf (Christmas present for one of my Berthas), but I'm giving it a shot. Heaven forbid I'd actually complete one of my other projects before starting this.